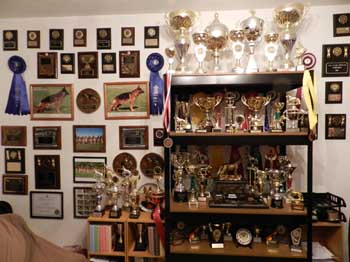 Welcome to our website, we hope you'll enjoy visiting it.
A few words about us:
German Shepherd breeders and trainers - we started breeding good quality German line dogs more than 28 years ago, in our home country Romania (Bucharest).
Amalaberg kennel was well-known for many years in that part of Europe and won 2 years in a row the title "Kennel No 1" at the Romanian Championship 1998/1999 - under German Judges.
During the years, being also active members in the Romanian Kennel Club board and also as president and vice-president of the German-Shepherd and Collie Club, we constantly worked and were interested in being involved in this complex process of improving the bloodlines and updating and keeping up with Germany's great efforts in genetic selection and constant improvement of this breed.
We imported quite a number of valuable dogs and had great satisfactions in our work: selecting, breeding, showing, training wonderful German Shepherd dogs.
We moved to Canada in 2001 and continued our work.
Our present group of dogs is coming from some of the best bloodlines in the world - 100% German show-working lines - and they all and their progeny have an incredible balanced potential: beautiful and correct conformation (lovely looking dogs) and in the same time great working skills (100% trainable for SchH or any kind of other working trials, not to mention what perfect and reliable companions they are).
Very healthy and strong bloodlines, checked in Germany on many generations behind - for hips, elbows, health, temperament, conformation, working skills, all DNA tested, etc.
Let us introduce ourselves.
We are: